Facility Spotlight: SeaWorld Gold Coast. (Queensland, Australia)
Visited: August of 2014.
To be clear, Sea World Gold Coast is not affiliated with the American SeaWorld, instead being operated by Village Roadshow. Although my friend had warned me that the place was "kind of bogan", I was not prepared for how underwhelming it was. Simply put, it was the most boring place I have ever been that had dolphins.
But let's focus on the high points first: The polar bear habitat, which is among the most technologically advanced in the world, was spacious with impressive landscaping and ample enrichment opportunities for the animals. They were swimming, jumping off the "cliffs", and having what appeared to be a grand old time. Who would have thought that in Australia these threatened arctic animals could have such a good life? Kind of ironic when you consider climate change is killing them.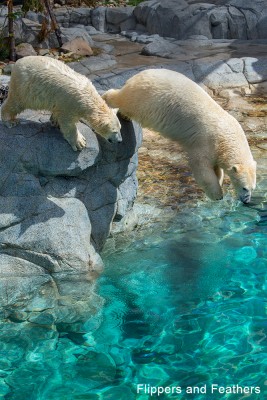 The dolphin habitats are spacious, sandy-bottomed, and fringed with a small beach for a naturalistic look. The park also makes an effort at being educational, with informative signs found throughout, and an interesting narrative during the dolphin show "Imagine" (since replaced with "Affinity").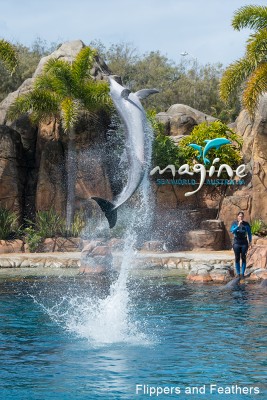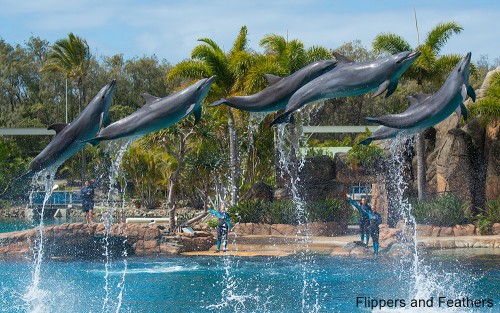 Unfortunately, it seemed as though at least some of the dolphins were as bored as I was. While admiring the animals in the Dolphin Nursery, a couple brought their few toys over and placed them on the shore as close to my feet as they could. Having just visited the vastly superior SeaWorld San Diego, where the dolphins can freely interact with visitors as they choose, including having them throw toys, it was not difficult to guess what these fellows wanted.
It was then I realized that there was no staff around at all to answer visitors' questions, give small scale educational talks, interact with the animals, or any combination thereof — something I frequently see in other facilities.  Eventually, someone did do a walk around the perimeter, which caught the dolphins' attention, but he completely ignored them.
That said, at one point I did see some at a distance engaging in a training session, and the dolphins do seem to have a great relationship with their trainers, but being able to see more of this from a better vantage point would have been nice.  There are no underwater observation areas, either, which go a long way towards helping a person appreciate these amazing marine mammals.
There was a lot of hype for the sea lion feeding, but as the feeding platform was at a distance from the main observation areas, anyone who hadn't paid for the privilege quickly lost interest.
As for the sea lion show, "Fish Detectives", it was remarkably similar to the clichéd "whodunit" story that was running at the unaffiliated SeaWorld San Antonio, right down to the animals' names (one was named Claude instead of Clyde). Couldn't they have come up with something more original?  Especially considering how cool sea lions naturally are…?  Honestly, I couldn't even stay for the duration.
The small number of rides can only be described as lackluster. I wasn't expecting something like Dreamworld, but SOMETHING to help kill the lengthy wait times between shows would have been nice. (Although interestingly enough Dreamworld has an excellent and much more interactive zoological area, and are one of the single largest contributors to tiger conservation).
I had intended to stay the whole day, but with overly spaced-out shows, absolutely nothing to do in-between, and with some of the animals looking just as bored as I felt, I left early feeling ripped off and far from inspired.  Several people have said I must have visited on a really bad day. If I go back and have a good one, I will happily update as appropriate.  But as it is, with this being the only facility of its kind in Australia, it is unfortunate that if I didn't already love marine life, Sea World Gold Coast would not have changed my mind.
Pass.