With a strong focus on research and conservation, the Vancouver Aquarium in Vancouver, Canada, first opened its doors in 1956, and have become a progressive and excellent example of which other facilities should aspire to be (or be more like, as different facilities satisfy different niches and/or learning styles). For example, in 1996 they became the first facility to pledge to no longer collect marine mammals from the wild, and other facilities quickly followed.
The Vancouver Aquarium was also the first facility to, effectively, display a killer whale. Although it was far from an ideal situation as the animal was harpooned for the purpose of being used to create a lifesize model, Moby Doll (as she came to be known) changed the way people viewed this highly misunderstood marine mammal, and we stopped using the species for target practice.
Split into several different galleries, including Canada's Arctic, the Tropic Zone (highlighting the Amazon), Penguin Point, and Treasures of the BC Coast (among others), the Vancouver Aquarium provides a glimpse of the natural world from around the globe.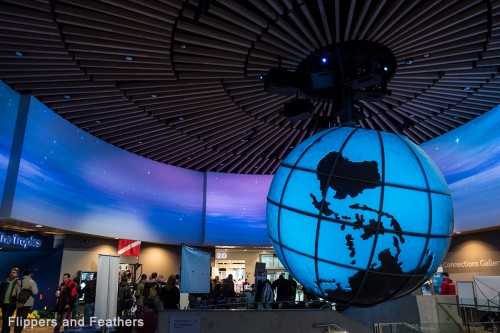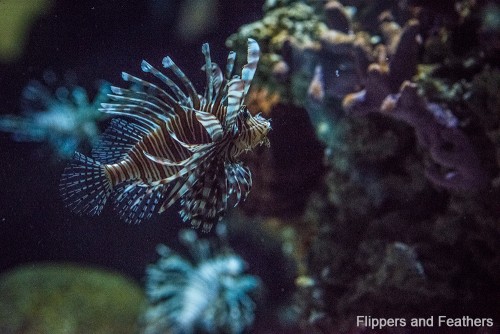 Home to the only marine mammal rescue centre in Canada (Marineland, who are much closer to a threatened population of beluga whales in the St Lawrence, does not operate one), the Vancouver Aquarium rescues, rehabilitates, and often re-releases around 100 animals each year. Primarily seals, they have also saved otters, sea lions, harbour porpoises, a false killer whale, and even sea turtles who were found far from their preferred tropical climes.  Some of the animals were later deemed non-releaseable by the appropriate government authorities, and the aquarium was able to provide them with a permanent home.
The "Frogs Forever?" gallery, which spawned the famous ad and internet response below, highlights the global plight of the world's amphibians, whose numbers are crashing due to pollution, habitat loss, and the spread of chytrid fungus.  Zoological facilities around the world are working to create a modern-day network of arks for the world's imperiled amphibians, and the Vancouver Aquarium was the first to breed the Northern Leopard Frog.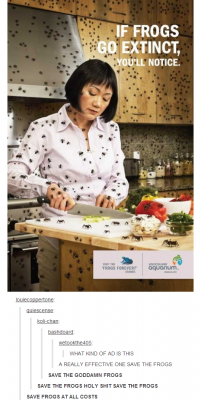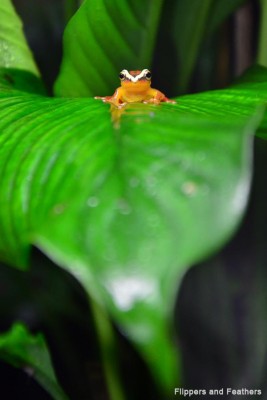 The aquarium is also home to some animals you wouldn't expect to see in such a facility, such as macaws, sloths, marmosets, and fruit bats. This helps create a balanced impression of how everything is interconnected.
The Vancouver Aquarium is home to the only two captive Harbour Porpoises in North America, both of whom were found washed up on beaches in poor condition at about 1 month old, and had a very low chance of survival (Daisy in 2008, Jack in 2011). Volunteers at the Marine Mammal Rescue Centre worked around the clock to save them, using purpose-built slings to help them float (and breathe). The two were recently moved into the beluga habitat, which has given them more room to exhibit natural behaviours, such as this side-by-side swimming recorded days after the move in January.
Harbour Porpoises are BC's most abundant cetaceans, yet very little is known about them. As such, Jack and Daisy not only serve as excellent ambassadors for their species (I know tons of people who now love porpoises!), but are also helping scientists understand them better. In 2013, a porpoise named Levi was successfully rescued and re-released, in part due to what was learned from working with Jack and Daisy.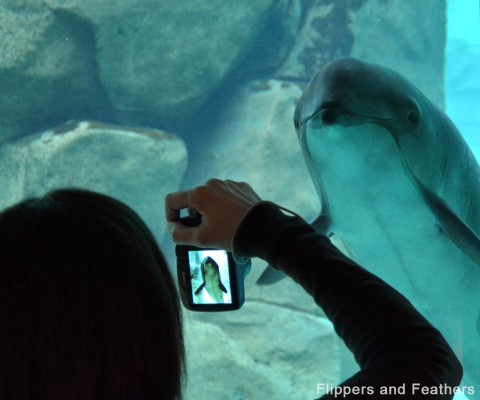 The many shows and talks are educational in nature, focusing on husbandry procedures (which, inevitably, showcases the bond between the animals and their trainers), the plight of the animals' wild counterparts, and stories of the often-rescued animals themselves. For example, how Pacific White-Sided Dolphin Helen was found entangled in a fishing net off the coast of Japan (no, NOT Taiji!) and had to have her pectoral fins partially removed.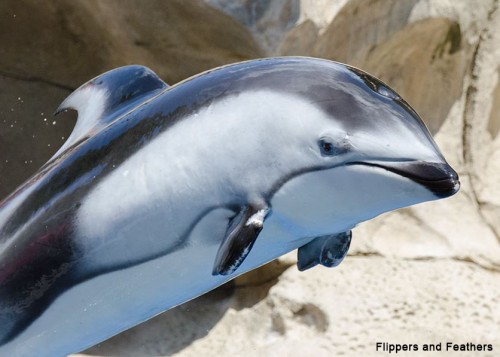 The aquarium also has special programming throughout the year, such as Divers Weekend as seen below.  Other examples include "After Hours" adults-only nights, and the always-popular appearances from Scuba Stanta at Christmas.  Darth Vader even made a special appearance once during "Sea Star Wars".
In 2015, the aquarium performed groundbreaking surgery on a Pacific White-Sided Dolphin named Hana. It was kind of an "all bets are off" situation as she would not have otherwise recovered. Although Hana sadly did not survive her illness, what veterinarians learned may help save other animals in the future.
The Vancouver Aquarium conducts research into why Stellar Sea Lion populations have plummeted.  This includes measuring the metabolism of trained sea lions based at an open water research site, and examining sea lion poop.  They discovered that sea lions are increasingly eating lower-nutrient fish as higher-energy fish stocks are depleted.
While visiting the Toronto Zoo, I learned that their polar bear cub was being fed formula that the Vancouver Aquarium helped develop due to their expertise and extensive research involving various arctic animals.  Reputable facilities often work together and share information for the greater good.
Throughout my life I have heard of the aquarium wanting to expand its habitats, but the same activists who scream that they are "too small" and "inhumane" are the same ones who block the aquarium's efforts to improve at every turn (much like happened with Blue World Project at SeaWorld recently). Which is it?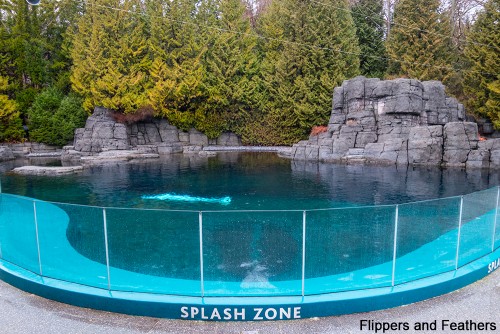 Oh, wait, I know… When Chester the false killer whale was found washed up on a beach in Tofino, animal rights activists were calling for his death as it was "more humane" than a second chance at life. Would they say the same thing about a car accident victim who was certain to never walk again? Frankly, having seen Chester in the flesh, I think he is doing just fine.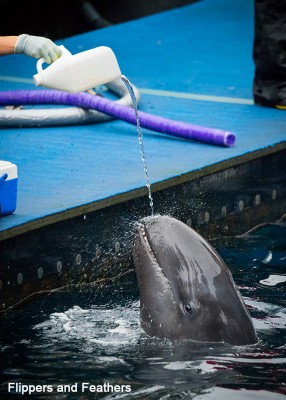 So all in all the Vancouver Aquarium is an excellent facility all-around, despite what they naysayers (who often have not even visited them) arbitrarily nitpick.  It is the place this prairie-raised animal-tech student learned to appreciate the aquatic world, which always seemed to out of reach.  Give them a visit, and you will certainly learn something new about our natural world too.