November 26: 2016 Original blog post from 2 days ago has been amended to reflect updated events.
After the recent loss of Qila, a beluga whale at the Vancouver Aquarium (who in some ways I watched grow up alongside my evolving view of belugas from "boring" to "beautiful"), shortly followed by the news that her mother Aurora passed from the same illness following heroic efforts to save her, I was reminded of a Skytrain ride conversation I overheard in which someone had clearly been inspired by these two animals.
On this commute a small child was gushing to his grandfather about beluga whales. How cool they are, how their home is melting, how pollution makes them "poisonous" (toxic), how he's going to write about belugas for school and tell his classmates, and how he wants to raise money to help them. His grandfather smiled and asked if he knew the Vancouver Aquarium had beluga whales. "YEAH!!! Auntie took me! That's how I know this!" and on and on he went.  If he paused to take a breath, I would be surprised.
Qila and Aurora played a direct role in inspiring the child above. Although many people do visit zoos and aquariums to be entertained, connecting with these animal ambassadors provides a tactile experience that can touch both mind and heart in ways books and television often can't.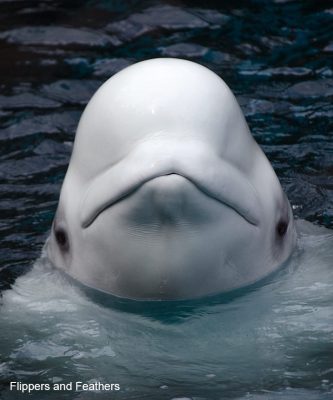 And for those who aren't inspired, the money they spend on admission, food, and souvenirs still helps fund conservation and research projects, of which the Vancouver Aquarium has many.
So like Jack the Harbour Porpoise, may Qila and Aurora live on through those they touched and inspired, and the wild belugas whose lives may be saved as a result.  They will without doubt be dearly missed by their dedicated carers, and aquarium visitors as well.