Located in Monarto, South Australia, at 2,700 acres Montarto Zoo is the largest free-range zoo in the world. It is so large that the Adelaide Zoo (also operated by the non-profit Zoos SA) could fit inside the lion habitat with room to spare. They are home to more than 500 animals of 50 species, and have several native Australian species utilising the grounds as well.
Quoting their website, Zoos SA exists "to save species from extinction and connect people with nature." Not only do they support conservation efforts worldwide, they also run a number of successful breeding programs for several endangered species. This includes Mesopotamian Fallow Deer (nearly extinct in the wild), Yellow-Footed Rock Wallabies, and iconic chimpanzees. They are also home to the only breeding hyenas in the Australasian region.
To describe the staff, "passionate" is an understatement. They are friendly and overflowing with interesting information about the zoo and its animals. At times they are also refreshingly blunt, saying that instead of killing a rhino and consuming its horn, one may as well eat hair and tonail clippings from off the floor as it is effectively the same thing. Another remarked that the only way to save the rhino is if it is "removed from Africa".
And indeed…there is an ambitious move to bring 80 Southern White Rhinos from Africa to Australia for the purpose of conservation. Monarto Zoo, putting their money where their mouth is, will house approximately half of them. The zoo is already home to 6, and have had 5 successful births.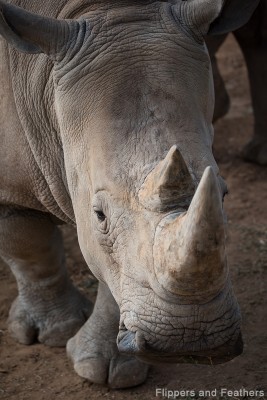 The zoo actively tries to reduce its ecological footprint, utilizing native plants to assist in reducing soil erosion and water consumption, and solar power is used for the fences and gates.
Monarto Zoo has extensive walking trails through the native bushland (and they run birdwatching walks from time to time), or you can travel around the zoo (and through the habitats!) on their network of buses. The buses make regular stops should people wish to visit the observation platforms and/or hear the various keeper talks.
There are a few downsides, which I mention so that you may get as much out of your visit to the zoo as possible: one is transportation. If you don't have a car, busing IS possible but not ideal if you are on a budget and/or have children. The bus from Adelaide to Mount Barker costs less than $5, where you have a 1-hour layover until a LinkSA picks you up and drops you off over an hour after the zoo opens.  I suspect LinkSA charges an arm and a leg for this short hop simply because they can – about $24 round trip. They neglect to mention this on their site, and other routes appeared to cost less when I tried to find the fare in advance. If you have children, this adds up quickly, and that hour long layover likely won't go over well.
Further, the nifty bus system around the zoo itself has potential to be problematic. When I visited on a weekday during the off-season it was great!  But accidentally going during school holidays (I imagine weekends are similar), we spent more time waiting for an available bus than looking at the animals. Be sure to bring ample water, as you may be stuck in the hot sun for a long time.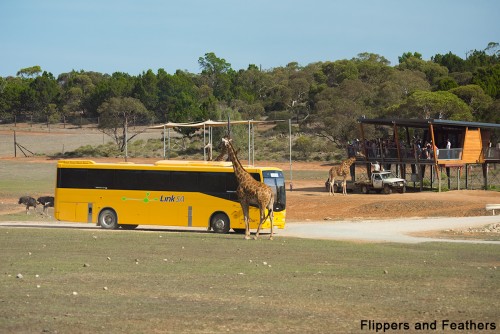 One other moot point I'll mention: photography can be difficult since many of your photos will be taken through the heavily tinted windows of a bumpy bus. I mention this because my friend became downright cranky at all the shots he lost out on.  While frustrating at times, there are still plenty of opportunities for good shots away from the buses, including of meerkats, yellow-footed rock wallabies, and chimpanzees, all of which are easily accessible by foot from the main hub (also a bonus in case the buses are full as mentioned above).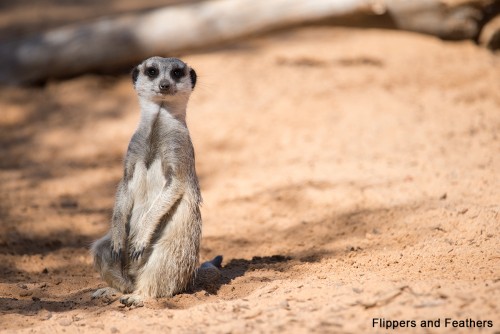 Overall, Monarto is definitely worth a visit. They hit all the right marks, and you are bound to learn something interesting, or at the very least, be entertained watching the animals just be themselves in their massive habitats!  The chimpanzees were particularly fascinating.  Be sure to check this zoo out!