If visiting the world heritage-listed Daintree Rainforest in Queensland, Australia, a riverboat tour is a must. With their solar-powered vessel, Solar Whisper offer the true eco-tour option. Even if not visiting the Daintree, their Facebook page is well worth a Like both for the amazing photography and to keep up to date on the "Days of the Daintree," a tabloid-style narrative about the escapades of the river's resident wildlife (particularly the crocodiles, many of whom are named after Royals).
Having been on a Daintree river cruise with a different company 2 years ago, the absence of harsh engine noise was notable, and allowed one to actually hear the rainforest birdsong as we glided through the mangroves.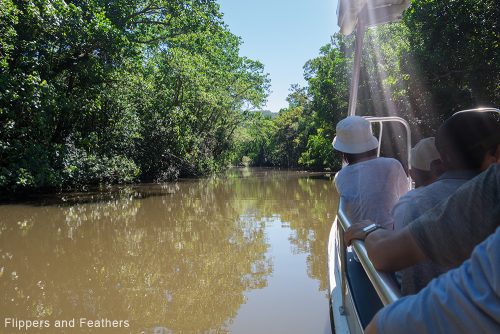 I imagine the local wildlife prefers it as well, as we saw considerably more than on the other tour I went on, including 2 White-Lipped Treefrogs, a colony of threatened Spectacled Flying Foxes, several birds, and (despite being the low season for sightings) 2 crocodiles. None of the wildlife seemed perturbed by our presence.
David's narrative was interesting, educational, and humorous all at once. It is obvious he is genuinely passionate about his work, and knowledgeable about the wildlife he is able to share with others through these tours.
Solar Whisper is notable in that they are bat-friendly, highlighting the importance of these threatened "lycra-clad teddy bears of the sky" (as their Facebook aptly describes them) to rainforest health, in a region that far too often demonises them.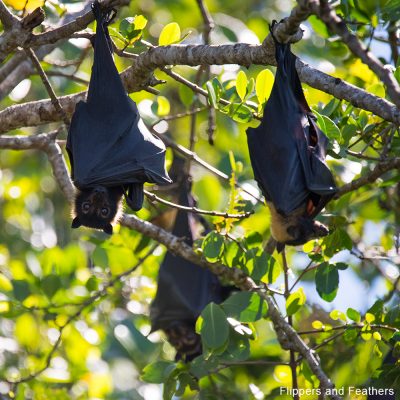 As a bonus, the man at the front desk, Martin, was extremely knowledgeable about Australia's bird-life.  He provided some useful tips that helped me add a few new ones to my Life List.
All in all, Solar Whisper is a must-do.  Very highly recommended.