I originally visited Port of Nagoya Aquarium in February 2017, and wrote this review shortly after although did not post it.  Since then the orcas now use the huge show pool!
———-
Humans learn best when they are entertained, and if one speaks Japanese, Port of Nagoya Aquarium would certainly be a perfect fusion of entertainment and education, as this seemingly small aquarium felt like a living science centre. And if you don't speak Japanese (like me), it is still worth trip as there is plenty to see and do.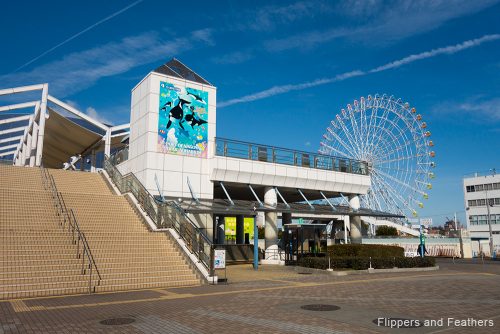 Port of Nagoya Aquarium's North Building's theme is "A journey spanning 3.5 billion years: Animals that have returned to the seas." Alongside a rather large collection of bones and fossils detailing cetacean evolution are their living descendants, including orcas, belugas, bottlenose dolphins, and pacific white sided dolphins. That it is all in Japanese didn't make it any less interesting – indeed, I spent most of my day watching the cetaceans play with toys, interact with their trainers, check out the guests, and more.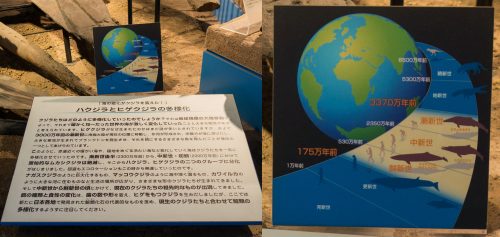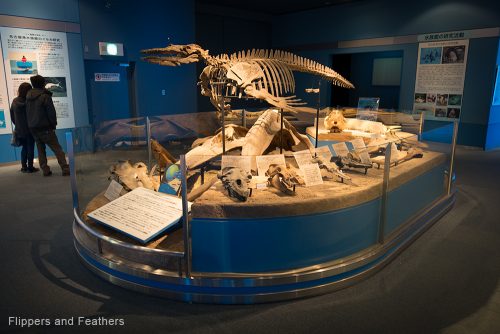 While the orcas do not have their own show so to speak, the aquarium conducts scheduled public training sessions. The two I saw were vastly different from one another: one was low-energy and seemed to focus on basic behaviours and husbandry, while the other was more like what you'd expect an orca show to be (complete with background music), and featured more high-energy behaviours. Both provided an extensive commentary.
Earth, who was transferred from Kamogawa Sea World in late-2015, was interacting affectionately with his grandmother Stella and aunt Lynn. He and Lynn seemed particularly close, as she kept following him around and melon-bumping him. At Kamogawa he was often alone in the back pool.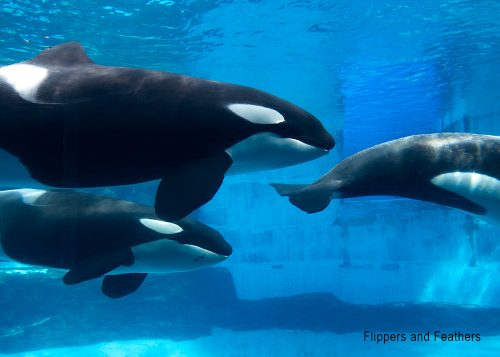 The beluga whale training session takes place in a building whimsically called "Under the Northern Lights" (although I was sad to see there were no simulated northern lights – the title evoked images of Chimelong Ocean Kingdom). The belugas seemed to have a very good relationship with their trainers, and appeared enthusiastic and responsive. There was even a trainer in what I presume was the med pool tossing a ball back and forth with the animals in there, as if it was to ensure they weren't left out.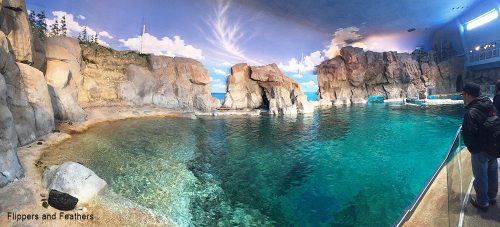 The dolphin show was high energy and fun, and featured both Bottlenose and Pacific White Sided Dolphins(!!!). Earlier in the day, they held a special presentation for visiting students which was heavy on narrative and laughs – the Pacific White Sided Dolphins in particular were crowd-pleasers with the children.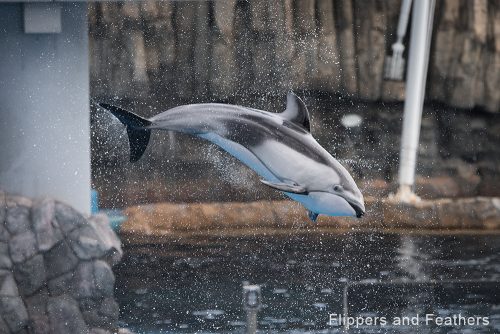 And the show pool itself? Spacious and deep. [Note: This is the one the orcas have started using since typing the review]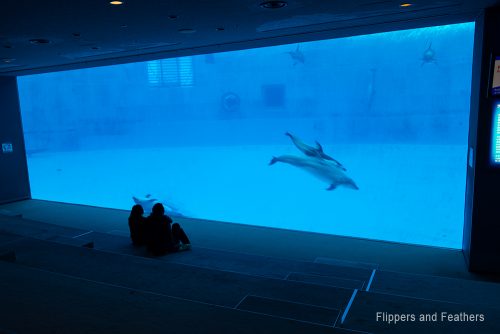 The South Building's theme is "A Journey to the Antarctic" and is meant to simulate a journey south from Japan. It includes marine life from Japan, equatorial regions, deep-sea regions, Australia, and of course Antarctica.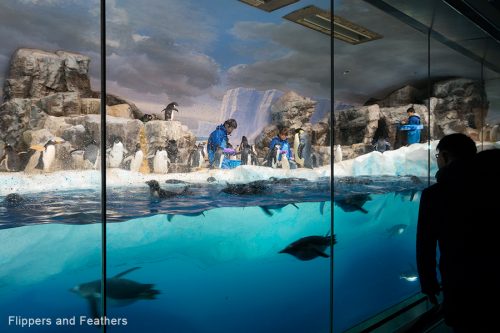 Just don't make the same mistake I did: make sure you enter what I believe was the "Japan's Seas" area by way of a small, rather lackluster room that held only a few small fish tanks. I bypassed it for something more "exciting", and inadvertently started exploring the exhibits from the wrong end, not realizing I had done so until I was about halfway through and became like a salmon swimming upstream.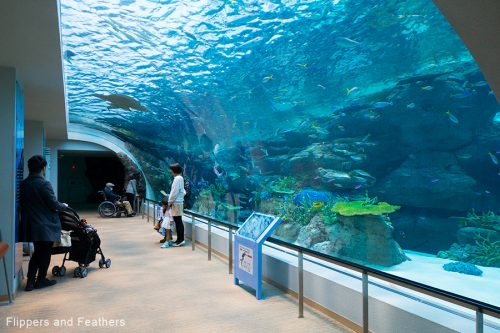 The aquarium also holds educational talks and feeding sessions throughout the day. One would need to speak Japanese to understand them, but judging by the crowd's reactions, they were interesting.  Topics included breeding, feeding, ecology, and animal care.
One thing that stood out at Port of Nagoya was how much time the trainers spend with the animals in their care. Outside of scheduled shows, trainers were often seen giving the animals check-ups, rub-downs, playing with them, or training them – basically, the focus on enrichment was high. At times the trainers merely stood back and observed, with the animals often seeking them out for attention of their own accord.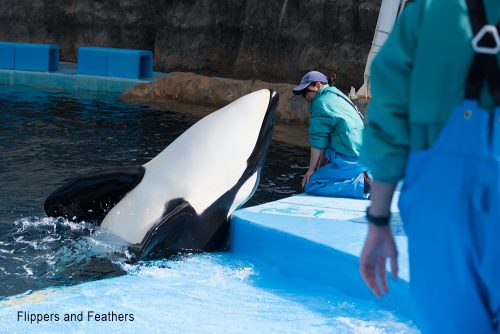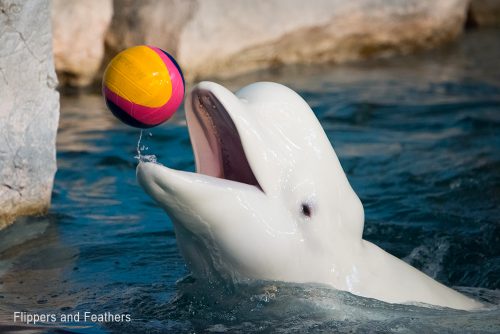 There also seemed to be a larger emphasis on tactile gestures as positive reinforcement than I have seen at other facilities.  The trainers were very hands-on, and the animals sure didn't seem to be complaining.
It is notable how much closer the trainers could freely get to the animals, the images below. At SeaWorld parks in the US, for example, the trainers often put a small set of bars between them and the orcas during certain interactions (likely due to regulations).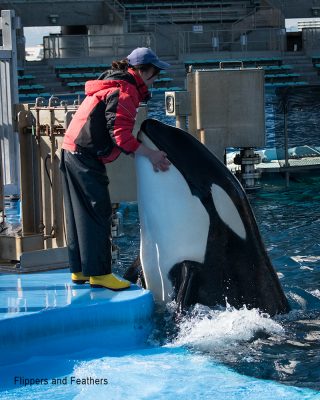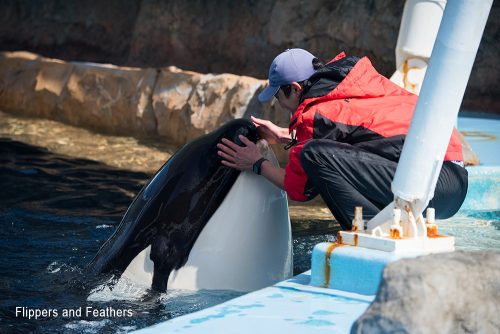 A recommendation: If you have no reason to visit Nagoya for any reason other than to visit the aquarium, the Shinkansen from Tokyo is a time-efficient method of getting there, and it was an easy hop by subway to the aquarium itself.  Although it appears pricey, the expense worth every penny considering the hassle, cost, and lost time if one opts to check into a hotel instead.  However you choose to get there, a visit to this aquarium is definitely worth it.